Champion Concept: Vrack - The Beast that Feasts
So during my work of transporting my old champion concepts to the new forums, I took a look at Vrack, and well... I decided it needed to be redone from back then. So Vrack has been given a new drawing and a new lore to match with the current story going on. Likewise it also had some number changes to the kit. So here we go.
---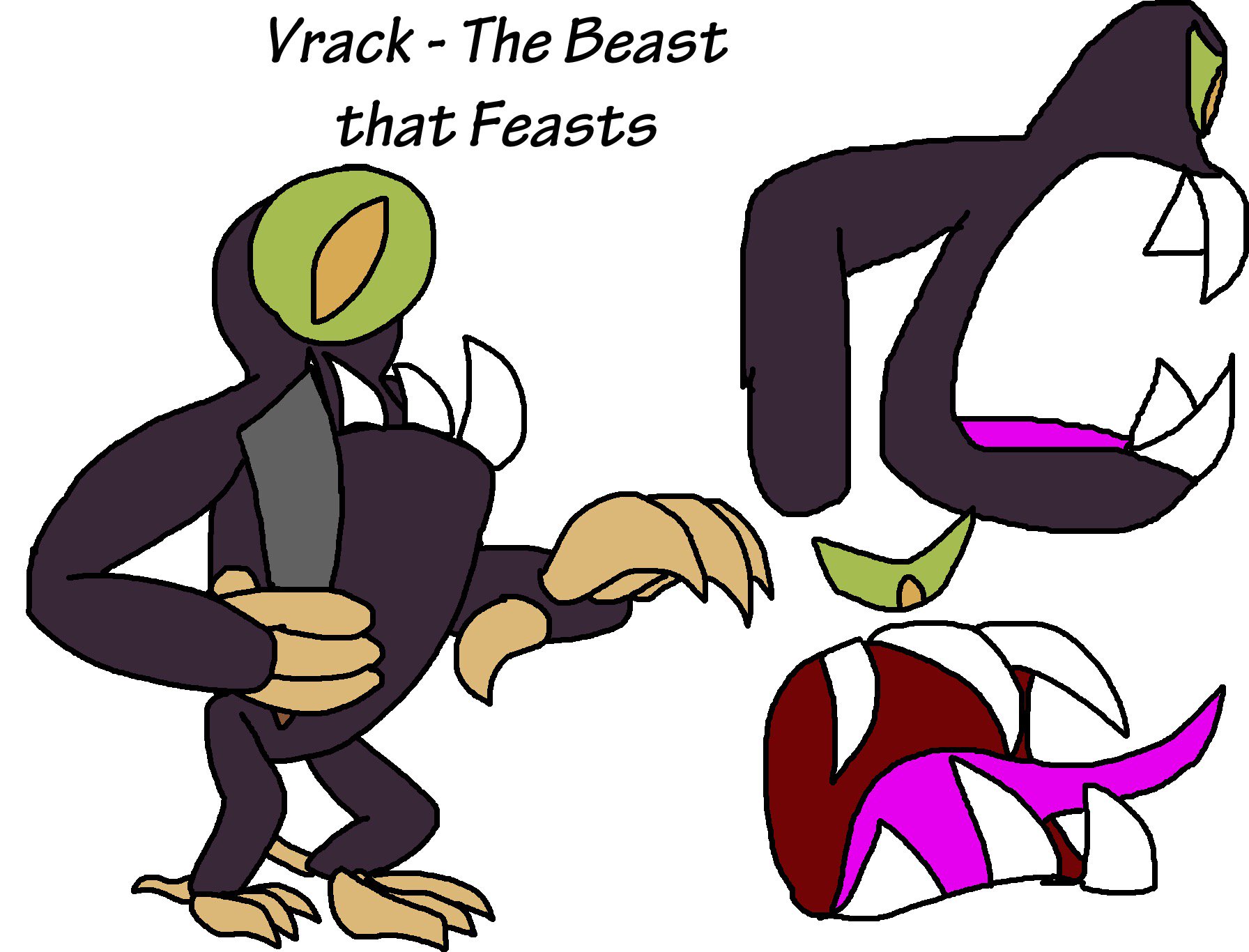 Lore:
Hunger, and eternal curse that we all must do our best to sedate or else suffer immensely. But for the monster known simply as Vrack, it is not only a curse, it is the only thing it knows of.
A long time ago, Judges were called to investigate the disappearances of several political figures among the Magistrate ranks. After some investigation and viscous interrogations they were able to isolate the building the people where vanishing into and the person behind them. A high ranking noble, desperate to keep his grip of power in check, was using taboo rituals to send them to an unknown realm. The Judges lept into action and were able to stop the noble from banishing his newest target away, but by interrupting the ritual, it caused something from that realm to find it's way into the room. After consuming the noble whole and butchering several judges, the abomination was eventually subdue, but not killed. The beast, who few have learned has a name known simply as "Vrack" had gained the attention of Karne himself, and was given an opportunity, assist the Magistrate in it's current war and it can eat whatever it killed and they will assist in returning it home when they take care of the enemies. Vrack, intrigued at the offer, and knowing the fate that may occur if Vrack refused, took the bargain.
But during the battle, Vrack has caught whiff of something new... Something more interesting then the offer, flesh... IMMORTAL Flesh. Vrack still fights for those who told them to fight, but once Vrack can get access to it's desired meal, then all will be nothing but meals to this monster.
"This world is full of... So many flavors"
Role: Flanker
Health: 2500
Weapon: Foreign Cleaver - A Butcher's favorite choice for cleaving and hacking meat into bite size pieces, swiping in an arch in front of you every 0.8 seconds.
Range: Melee
Damage: 500
Damage Type: Direct
Alt-Fire: Selection Sample - Lashes your tongue out in a cone in front of you, dealing 300 area damage to all enemy champions hit and healing yourself for the same amount.
Cooldown: 8 seconds
Talent - An Acquired Taste: Hitting only one enemy with Selection Sample causes them to get slowed by 30% for 2.5 seconds and heal you for 10% of their max health.
Q: Gluttonous Craze - Enter a hunger fueled frenzy, gaining 25% Movement Speed and 30% Attack Speed for 5 seconds and marking the closest enemy champion near you. Marked Champions take 20% more damage and heals your for 200 whenever they hits them with any damaging ability.
Talent - Cull the Weak: During Gluttonous Craze, you now gain vision on your marked enemy champion as well as any enemy champions with less the 25% of their max health.
F: Lunge - Leaps forward, if you lands on top of an enemy champion. Deal 200 direct damage and stun them for 0.5 seconds.
Talent - Splintered Limbs: Lunge no longer stuns, but will now cripple enemies landed on for 1.5 seconds
Ultimate: Devour - Launch your tongue forward and grabs an enemy champion, pulling them into your maw. For the next 5 seconds, heals for 3000 HP as the enemy champion takes 1500 damage and cannot do anything. If the enemy champion dies mid ult then become fully healed and gains the rest of the regen as a shield for 5 seconds. The 3000 HP heal cannot be reduced by healing debuff effects.
posted in Community Creations